845-624-1366
2290 Palisades Center Dr, West Nyack, NY 10994
BRIDGES was founded in 1987 under the name Rockland Independent Living Center (RILC). We are a community-based, peer-driven, cross-disability, not-for-profit organization dedicated to advocacy and leadership on behalf of people with disabilities. BRIDGES is one of 41 Independent Living Centers (ILC) operating in New York State under the auspices of New York State Education Department (NYSED). Each ILC adheres to a national philosophy of Independent Living (IL) that seeks to empower individuals with disabilities to make autonomous decisions regarding all aspects of living and advocating to ensure equal access to opportunities desired.
In accordance with the IL philosophy, BRIDGES is governed by a Board of Directors that has majority representation of people with disabilities. As an ILC, BRIDGES provides essential core services of Independent Living. These include:
Peer Counseling
Independent Living Skills Training
Information & Referral
Individual & Systems Advocacy
Transition Supports
Mission Statement
The mission of BRIDGES is to provide advocacy and leadership towards an accessible, integrated community, promoting health and autonomy for people with disabilities.
Vision
The vision of BRIDGES is to establish a barrier-free society; improving access and enhancing the quality of life for people with disabilities.
Value Statement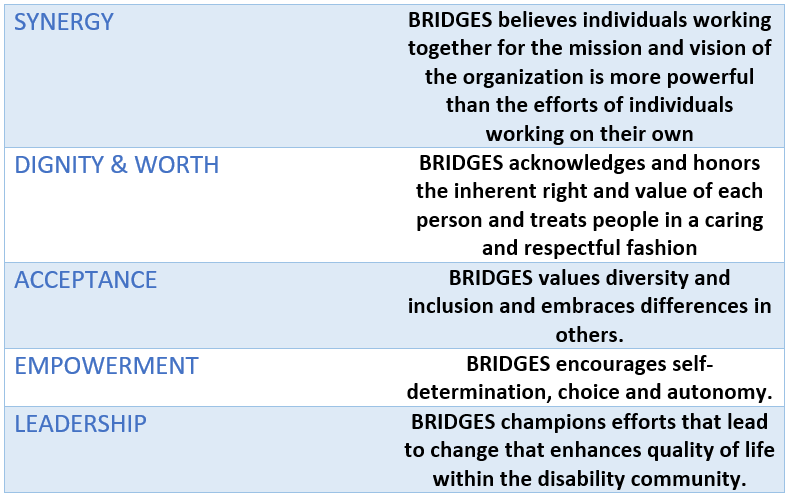 Non-Discrimination
BRIDGES does not and shall not discriminate on the basis of race, color, religion (creed), gender, gender expression, age, national origin (ancestry), disability, marital status, sexual orientation, or military status, in any of its activities or operations. These activities include, but are not limited to, hiring and firing of staff, selection of volunteers and vendors, and provision of services. We are committed to providing an inclusive and welcoming environment for all members of our staff, clients, volunteers, subcontractors, vendors, and clients.
BRIDGES provides reasonable accommodations to applicants and employees who need them for
medical or religious reasons, as required by law.